*point your mouse over the pictures to get a bigger view
Land : 1 acre 
Built up : 8000 Sq Mts



Check in Time: 14:00
Check out Time: 12.00

100% Power Back Up

Taxes Applicable
In Villa Service Charges: Ask for details


LOCATION



FACILITIES
Bar -b-cue
Tea & Coffee Maker
Dedicated Manager
Private Swimming Pool
Pool Table
Welcome hamper on Arrival


Music System
Outdoor Dining area
2 Pools (Pool & Baby Pool)
Pool Deck
Parking
Outdoor Gym
3 TV's with Tata Sky (total 3 TV's including one 70")
Wine Fridge
Safe
Day Maid
50 different species of plants, shrubs, bushes, trees
Walking and running track along the house
Doctor on Call
3 Resident Staff
No Lifeguard on Duty
Non Resident Staff
Car Hire optional
Parking
Airport Transfer
Limited to zero telephony and data network. Wifi and Landline are available.
In villa Menu & Chef

: Included
: Not Included
: Paid Extra

Distance to:

Night Market : 4 KM 
Distance to Anjuna / Vagator Beach 5 Km 
Morjim : 10 KM 
Candolim : 10 KM 
Distance to Airport : 45 KM 



Seasons:


Low: 1st May - 30th September Avg Temp 30°C, Monsoons
Mid: 1st October - 30th April Avg Temp 28°C
High: 15th December - 15th January Avg Temp 22°C
High Peak: (New Year Week) 24th December - 3rd January

Villa at a glance.
Price:
Starts- 4BR for Rs.29,500/- per night (incl GST)
2 persons a room, kids are classed as under 12
Bedrooms: 4 Bathrooms: 4 (ensuite)
Extra beds/Matresses: As per requirement
Occupancy: 8+
Planning to book in the next 24 hours? Booking from April to October?
Click here to claim a deal & know more.
The villa has been constructed by an award winning architect and its interior designed by an distinguished artist. Our desire was to shift perceptions of modern architecture. We wanted to allow people to experience what it is like to live, eat and sleep in a space designed by an outstanding architectural practice.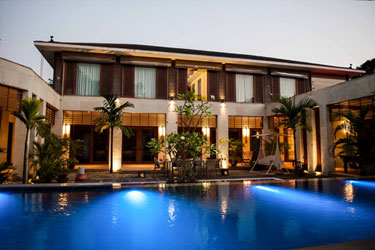 Serene and elegant, the Villa is a stylish ultra luxury villa perched in the exotic Portuguese village of Assagao. Its architectural genre is courtyard style, contemporary east asian tropical, and the villa is surrounded three sides by a forest immersing its occupants in nature. The villa is situated within minutes of Villa Blanche, the famous café that imports ingredients from Europe, Gunpowder the famous coastal cuisine restaurant and Purple Valley, the world famous Yoga resort.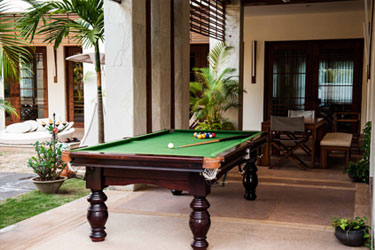 Assagaon is uniquely located and very quiet but within minutes of famous Goan hubs of activities and beaches.
The quaint Village is minutes away from the eclectic beaches Anjuna, Vagator, Morgim and Asvem with scores of incredible bars and cafes, fine dining restaurants, fashion boutiques, nightclubs and where young and old cultures rub shoulders. A melting pot for the chic and the bohemian, the international and the city bred.
Across the road are Goa's famous stores ˆ Cheshire Cat and Indian Story famous for clothes, textiles, semi precious jewellery , shoes, rugs and Indian art.
The Villa is within also close to the famous night market at Arpora, which has recently been ranked as one of the top 10 open markets in the world.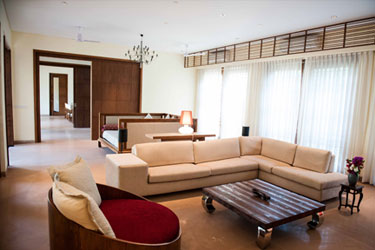 The Villa is surrounded by greenery and natural light, it is spacious and airy. Besides being fully furnished with a cook and house keeping staff and the usual amenities such as air conditioning, wifi, cable tv, a fully equipped modern kitchen, washing/drying machine, a plush living room with several seating areas (including a day bed), comfortable, spacious and sophisticated bedrooms, a dining room that seats 12, a kitchen, stylish bathrooms, pool table, two swimming pools (adults and kids), various outdoor seating options, bar be cue and a natural outdoor gym. The Villa is surrounded by beautiful gardens bearing exotic fruit trees, flowers, plants and an old well.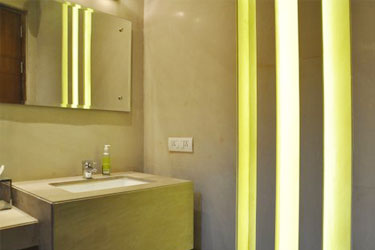 The Villa was designed by a rising star from the architectural school at MIT (US), and its lighting has been designed by an award winning lighting consultant. The Villa has recently been featured in a leading architectural magazine. The owners, who don't live in Goa are extremely selective about who stays at the Villa.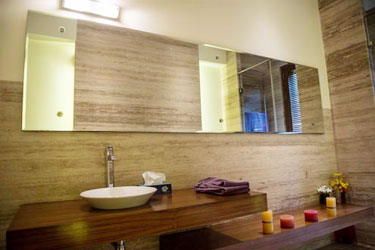 Although Assagao is extremely safe, the villa has a 24 hour CCTV system and a loyal staff of three who have been living in its outhouse since its construction in 2011.




We are happy to bring you some amazing deals and offers!

SPECIAL OFFERS FOR BOOKINGS!🌟
Book for 2 nights - get a discount.
Book for 3 nights - get a higher discount.
Book for 4 nights or more - get an even higher discount!
⚡⚡⚡ LIGHTNING ROOM DEALS ⚡⚡⚡
Valid 36 hrs from date of enquiry
Book for 2 nights - get a super discount.
Book for 3 nights - get a higher discount.
Book for 4 nights or more - get the best deal we can offer!

Click here for the Special Tariff Chart

For lightning villa deals, payment must be made within 36 hours of the original enquiry. Incase the payment is not recieved in 48 hours, the next best tariff is applicable.

Discounts valid only on listed tariffs. Cannnot be combined with any other deals/discounts.
Valid only for fresh bookings and enquiries made after the 1st of April 2017.

Offer valid subject to availability.
Minimum 2 nights stay.
Taxes as applicable.
Terms and conditions apply.
100% payment in advance for discounted rates.
Not valid during HIgh Peak & certain long weekends.
Not valid for single room bookings, only for 4 room bookings.


SUMMER SPECIALS & LIGHTNING DEALS : TARIFF CHART
For bookings between 1st April till 30th October 2017.


For

⚡

lightning deals, payment must be made within 36 hours of the original enquiry. Incase the payment is not recieved in 48 hours, the next best tariff is applicable.
GVR205 - PRIVATE Pool Villa : 4 bedrooms : 8 guests
8 guests
REGULAR TARIFF
SPECIAL OFFERS
⚡ LIGHTNING VILLA DEALS
2 nights
LOW:
MID:


Rs. 59,000

/-


Rs. 89,600

/-

Rs. 56,100/-


Rs. 85,200

/-
Rs. 53,100/-


Rs. 74,400

/-

3 nights

LOW:
MID:

Rs. 88,500/-


Rs. 1,34,400/-

Rs. 79,700/-


Rs. 1,11,600

/-
Rs. 75,300/-


Rs. 1,05,400

/-

4 nights

LOW:
MID:

Rs. 1,18,000/-


Rs. 1,79,200

/-
Rs. 1,03,400/-


Rs. 1,40,500

/-
Rs. 94,400/-


Rs. 1,32,200

/-
Price includes tariff for 4 bedrooms, breakfast and GST.
MID Season: 1st April till 30th April & 1st October till 31th October 2017.
LOW Season: 1st May till 30th September 2017.

Inclusions:

Welcome drink on arrival
Accomodation
Local Taxes
Welcome hamper on arrival (includes breakfast goodies and more)
Accomodation for 2 children below 4 yrs of age, sharing the room with parents , will be free without extra bed. Extra bed can be provided if space permits @ Rs 1800/- plus tax per night

Please click on this link for General House and Safety Rules.

Please Note: All bookings will be confirmed against 100% advance payment. The package rates are applicable for a minimum of 2 / 3 / 4 nights stay. Please email us for extended night discounts.
Regular Room Tariff Chart
Season
Dates
Price per night
Per Room
For 4 Rooms

Low

1st May - 30th September

Rs.

7,375

/-
Rs.

29,500

/-

Mid

1st October - 30th April

Rs. 8,791/-

Rs.

35,164

/-

High

Christmas & New Year
(22nd December - 5th January)
Please Ask
Please Ask

Package Price per night is for 4 rooms with 8 guests

Tariff includes complimentary breakfast, housekeeping and mentioned inclusions.
GST is included.
Please note that our minimum rental period:
Min booking Peak: 3 days
Min booking High Peak Season: 7 days 
TESTIMONIAL

"We had a really great time at GVR 205 . The place is very well made and upto our expectations. The staff is extremely attentive and dedicated.  I thank your entire team for making our vacation a memorable one and looking forward to staying here again."
- Jatin Agarwal Stayed: 17-22nd April, 2014
jatin (dot) m (dot) agarwal (at) gmail (dot) com